College Financial Aid & Scholarships
The cost of higher education at both public and private institutions continues to escalate. Many of the more expensive schools can become affordable if there is sufficient financial need-based assistance available.
Regarding cost, a college education should be viewed as a major life-time investment; one that will appreciate over time and add to a higher quality of life.
Financial need is determined by subtracting what the parent and student can afford, EFC (Expected Family Contribution), from the total cost of attendance.
Financial assistance can include loans, grants, scholarships, and work opportunities. There are three basic financial aid application forms to be aware of: the Free Application for Federal Student Aid (FAFSA) which is used by all colleges; the College Scholarship Service PROFILE which is used primarily by private institutions, and an institutional form that an individual college may have created itself. Be prepared to complete any combination of these forms if you are applying for need-based financial aid. You are required to complete these forms online.
The National CCAA Scholarship is awarded to eight college-going high school seniors from various geographic regions attending one of our member institutions in Fall 2019.
The scholarship awards were established by the National CCAA's Board of Directors to promote Catholic higher education. We also aim to engage high school counselors in our effort to further encourage Catholic higher education.
The National CCAA Scholarship is a one-time, $1,000 award. This year's application is now available. The application is brief and will take students a few minutes to complete. The deadline to apply is March 15 and award recipients will be selected in mid to late March. Further details regarding the scholarship and application procedures can be found here. To learn more about the many educational opportunities our member colleges and universities have to offer, please visit our website.
This is a $1000.00 scholarship (amount not to exceed tuition and books) will be presented at a time appropriate to the recipient. The scholarship check will be written jointly to the recipient and the College/University the recipient plans to attend.
SC Soil and Water Scholarship  <-----Paper Application Due March 15, 2019
Antonakos Foundation (the "Foundation") anticipates awarding up to $10,000 in scholarships in 2018. The Foundation intends to set the number of actual scholarships and the amount of an individual scholarship based on a consideration of certain factors, including without limitation, the qualifications of the scholarship recipients and any other relevant factors. This scholarship is for high school seniors and students who plan to attend a college or university in the United States as a freshman during the 2019-20 academic year. Applicants should have demonstrated outstanding personal achievements, including academic merit, athletic merit, leadership qualities and/or community service.
To be considered for this scholarship, an applicant is required to:
Be currently enrolled as a high school senior in Greenville County, SC in good standing; and anticipate enrolling at a U.S. accredited college/university in the 2018-19 academic year as a freshman.
Submit at least two confidential evaluation forms and reference letters, one set of which must be from a current or former teacher in an academic subject.
Submit a personal statement as further described in this packet.
Have applied to a U.S. college/university either full-time or substantial part-time, and plan to enroll in a minimum of two terms for the school year (verified by submitting a copy of the acceptance letter from the college or university as soon as such acceptance letter is available).
Submit to interviews in person or by phone, if requested.
DEADLINE: MARCH 22, 2019
The Ride of Your Life Scholarship
I. Eligibility:
A. Applicant must be a full-time resident of South Carolina and a senior in a public or private high school or home school in South Carolina.
B. Applicant must complete the online application form in its entirety.
C. Applicant must attach a current photograph (preferably a senior class photo).
D. Applicant must attend a public or private college, university, or technical college in the state of South Carolina.
DEADLINE: MARCH 15, 2019
Lockheed Martin (NYSE: LMT) today announced a $50,000 scholarship program for students pursuing a STEM path, in partnership with the Surface Navy Association (SNA). The scholarship will be $10,000 a year for the next five years. Four students across the nation will receive a $2,500 award each year for financial aid. Recipients of the 2019 scholarship will be announced in the spring.
VICE ADMIRAL ROBERT L. WALTERS SCHOLARSHIP
The Surface Navy Association Scholar receives an academic scholarship awarded for demonstrated leadership, community service, academic achievement and a commitment to pursuing higher educational objectives.
SELECTION QUALIFICATIONS
Must be a Surface Navy Association Member or dependent child, stepchild, ward or spouse of a current Surface Navy Association Member. The member must be in their second or subsequent consecutive year of membership.
Note: Member must maintain current membership throughout scholarship award period if awarded.
Member can be serving, retired or honorably discharged and must be a Surface Warfare Officer or Enlisted Surface Warfare Specialist.  Qualified members must serve for a minimum of 3 years on surface ships of the U.S. Navy or a Coast Guardsman, Officer or Enlisted, with a permanent Cutterman Pin. Surface ships include carriers, combatants, amphibious, service force, mine force, tenders, and U.S. Coast Guard cutters of all classes.
The 3 years need not be consecutive but must have been served on active duty.
This award is a grant limited to $2000 per year for a maximum of four years provided a 3.0 grade point average is maintained.
There is no minimum service period for children or spouses of personnel who died on active duty while serving in a surface ship or cutter.
The Surface Navy Association scholarships are for studies in an accredited full-time undergraduate or postgraduate program. Fulltime status may be waived in the case of spouses as long as they maintain a course load of 6 semester hours.
Service Above Self Scholarship-Rotary Club of Greenville
1. Students living in Greenville County and graduates of high school programs within Greenville County are eligible to apply. Private school and home-school students are eligible. An applicant may participate in the program for a maximum of four years.
2. Application requirements include:
a. Official transcripts and copies of SAT/ACT scores as applicable b. 2 Letters of recommendation (one must be from an organization where community service was performed or by someone
who is able to verify some portion of the community service work.) c. Essay (guidelines provided in document: Essay Guidelines) d. Resume/C.V. that outlines community service work, academic, sports, and other extra-curricular activities e. FAFSA financial aid summary page that includes the EFC number (Financial need is not the primary consideration, but it may be used in the decision making process) f. Final candidates will be required to attend an in-person interview in Greenville. Effort will be made to avoid any conflict with school schedules, so transportation to/from a late afternoon or weekend interview may be required.
3. Applications should be submitted on or before March 1st. These should be mailed to the office of the Rotary Club of Greenville. The current postal address is 728 N. Pleasantburg Drive, Greenville, SC 29607.
Upstate Carolina Scholarship for Excellence in Science and Math
The intention of this unrestricted scholarship is to provide financial assistance to high school seniors looking to attend post-high school education and pursue a field in science or mathematics. The scholarship amount is $2,000 and will be presented directly to the student. The guidelines below are designed to narrow the field of applicants to those genuinely interested in pursuing scientific or mathematic careers, without limiting
the application pool to only those students in advanced placement classes. Please direct any questions to Grady Patterson at (864) 603-3033 or grpatter4@yahoo.com.
1. Recipient must be a high school senior.
2. Recipient must have achieved at least an 85 average on the SC Uniform Grading Scale (SCUGS) for all classes. (3.5 on a 4.0 scale)
3. Recipient must maintain behavior that is acceptable to the guidelines of their respective High School.
4. In 1000 words or less recipient should answer two of the three following essay questions. Essays should be written as a single response and not two separate responses.
a. What about science or math interests you?
b. Why is the study of science and mathematics important for the future?
c. What contribution to society do you see yourself making through a career in science or math?
Essays will be submitted electronically for evaluation. Please coordinate with your school counselor in order to submit an electronic copy of your essay.
Zeta Phi Beta Sorority Scholarship Greenville, SC
DEADLINE MARCH 16, 2019
South Carolina Association Of Extension Administrative Professionals
SCHOLARSHIP GUIDELINES
o This scholarship is offered to anyone* pursuing their initial associate or
baccalaureate degree in the administrative office technology, accounting, business management, or business administration field.
o Applicant must have at least a "B" grade point average or better.
o All applicants will be considered regardless of race, sex, religion, age, or handicap.
o Applicant must be a resident of South Carolina.
o The applicant's privacy will be protected.
*Anyone means members of SCAEAP, their children, or any other individuals pursuing a career in Administrative Office Technology, Accounting, Business Management or Business Administration.
LINK TO PAPER APPLICATION DUE MARCH 8 2019
The SCCCW Reverend William F. Pentis Memorial Scholarship was established in 2009 to honor Father Pentis, an Oratorian Father, who served as Moderator for the SCCCW, providing spiritual support for more than 30 years. His work with Council was a labor of love.
General Information:
The SCCCW mission is to respond with Gospel values to the needs of the Church and society in the modern world. It strives to support, empower, and educate all Catholic women in spirituality, leadership and service. The scholarship was, therefore, created to encourage and promote such themes among Catholic females from SC who are graduating high school. This merit-based scholarship grants one $1,500 award to its recipient.
Eligibility Requirements:
Eligible students must be female South Carolina residents, who are graduating seniors
planning to attend an institution of higher education (e.g., university, college, junior college, or technical school).
Student must be a Catholic in good standing, and a letter of recommendation from an
ecclesiastical body (e.g., priest, brother, deacon, or nun), a Director of Religious Education
(DRE), or a Youth Minister is required.
Student must be actively involved in school life and the community.
Submissions must be received by the deadline; no late applications will be considered.
Go here for more info: Scholarship Info
DEADLINE APRIL 12, 2019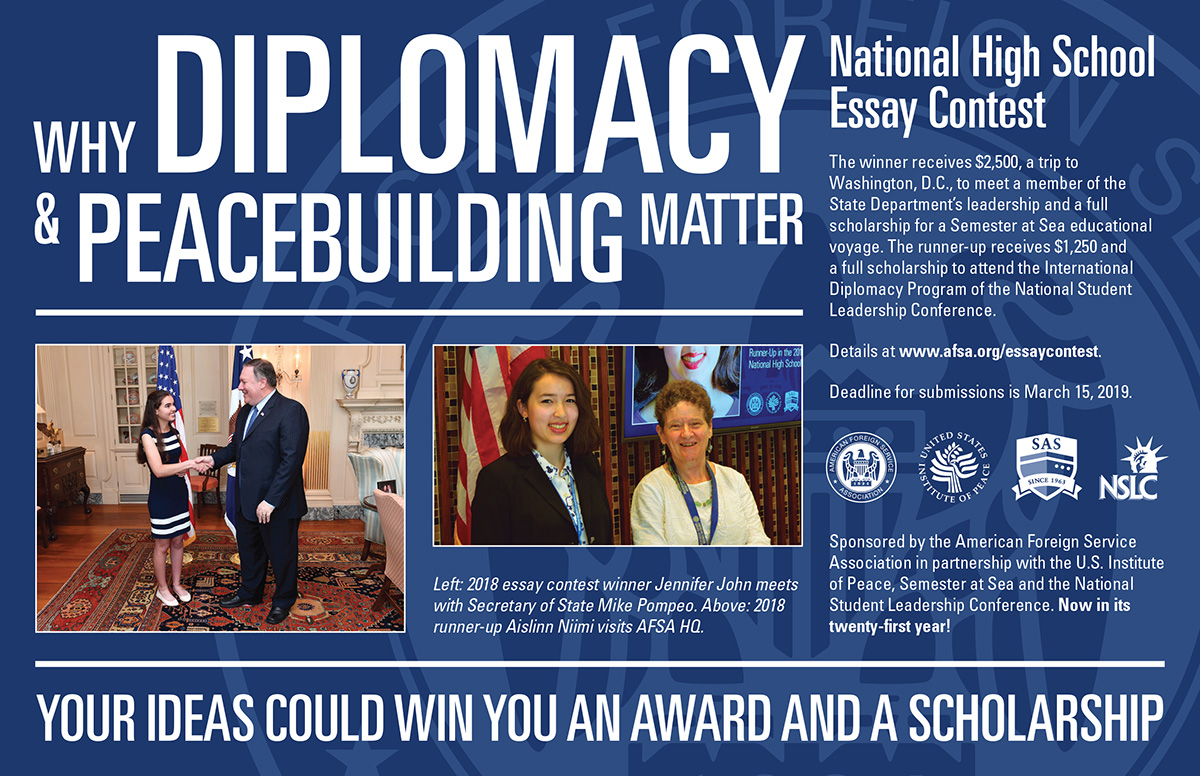 The primary mission of the Watson-Brown Foundation is providing need and merit-based scholarships to select Georgia and South Carolina students attending accredited four-year colleges and universities in the United States.  Merit and need-based scholarships are awarded to HS seniors and undergrads, renewable for up to 4 years.  Apply here before February 15, 2019!
Last week, we announced our exciting new scholarship initiative - FLAGSHIP 50.  Through this program we promise to match the in-state tuition at the flagship institution of each U.S. state for qualified incoming freshmen.
That's right, a private school education at a public school price - literally. And if students qualify for state or federal grants and scholarships, they can bring those awards to Oglethorpe, as well. Our FLAGSHIP 50 match program strives to ensure that a student's needs and interests, not a school's sticker price, will be the deciding factor in choosing a college.
You can read about students' eligibility for the program here and you can check out Inside Higher Ed's take on our new program. Our free Early Action application is now available on the Common App or at apply.oglethorpe.edu/apply.
Council on the Holocaust
The South Carolina Council on the Holocaust is pleased to offer a scholarship for graduating seniors that honors the memory of those who perished during the Holocaust.
The scholarship is open to high school seniors who will attend a two- or four-year college or university, with matriculation to begin in the 2019-2020 academic year. The scholarship is open to students in the state of South Carolina.
Students must submit a 750- to 1,500-word essay with a Works Cited page in MLA format addressing the following topic:
Thirty years ago, the South Carolina State Legislature established the South Carolina Council on the Holocaust to promote awareness of the Holocaust, its survivors, and its liberators, who called South Carolina their home. Write a convincing argument about the importance and relevance of Holocaust education to South Carolina today.
Student essays are due postmarked by March 29, 2019 or emailed by midnight. The essays will be reviewed by committee, with announcement of the award being made at the student's high school awards night by June 30, 2019.
This scholarship is a one-time presentation of $1000, to be used to support the student's first year of college or university education.
2019 Peck Law Firm Scholarship
Our 2019 essay contest is open to any American citizen, who will be attending a college, university, graduate school, or law school in the United States during the 2019-20 school year. Only students, who have a 3.0 GPA or higher may apply for this scholarship. This $2,000 scholarship award will be sent directly to the winner's school and can be used for all school-related expenses.
Any student, who wants to be considered for the scholarship, must complete the on-line application that appears at the link below. All written scholarship submission materials must be received by 11:59 PM EST on May 31, 2019. The winner will be announced on July 31, 2019 and will receive a one-time award of $2,000.
The link for the application and more information about our 2019 essay contest can be found at: http://thepeckfirm.com/peck-law-firm-scholarship/
Reedsy Creative Writing Scholarship
As the world's leading marketplace of book publishing talent, Reedsy is passionate about nurturing the next generation of fiction authors. We have designed this scholarship to award a student whose writing displays a clear and unique voice with the potential to thrive in the competitive literary landscape.
Awarded twice a year, successful candidates will receive $1,000 towards educational expenses and be eligible for further sponsorship from Reedsy while they develop as a writer.